Breaking: Here are my comments on the latest IPCC report. I've also posted a factual correction of Twitter that's getting quite a bit of attention—but that they have not responded to as of this writing.
In this issue:
Manuscript milestone
One of my favorite interviews ever…
Speaking to 400 college students in Houston
Accelerator Call
Manuscript milestone
After an intense 37-day final push, I have submitted the latest manuscript of Fossil Future to my publisher.
I hope I never work this many consecutive days at this intensity again. But I'm glad I did this time. This book is by far the best thing I've ever done.
The scheduled release date is 2/22/22.
PS Fossil Future is not up on Amazon yet.

Unfortunately, Amazon is still "selling" a revised edition of Moral Case for Fossil Fuels that doesn't exist and won't exist. I apologize for this debacle and I'm working on getting it fixed soon.
One of my favorite interviews ever…
I feel like a broken record because I keep doing new interviews and having the thought "This is one of my favorite interviews I've ever done."

I hope/think this means I'm improving vs. forgetful :-).

My latest favorite interview ever was on Robert Bryce's Power Hungry podcast. Robert asked a lot of penetrating questions about the methods and motives of the anti-fossil fuel, climate catastrophe movement—and I gave some of the new answers I've been developing in Fossil Future.

Another recent interview I really enjoyed was on the podcast of Robert Breedlove, a popular Bitcoin commentator. Robert is very, very interested in philosophy, and we ended up spending a lot of time on various issues in philosophy (especially Objectivist philosophy) that I've never discussed publicly.

Finally, I did a TV interview I was very happy with on the wildfire situation on the show "The Nation Speaks."
How to Avoid Dangerous Wildfires in Any Climate
America's biggest environmental problem: government-managed forests
Speaking to 400 college students in Houston
Last Friday I gave a speech to 400 college students at the Young America's Foundation conference in Houston, TX.

These students run political groups on their respective college campuses, so this appearance was a high-leverage way to reach a lot of people.

My favorite part of the event was not this ovation but when dozens of students rushed to the microphone to ask questions.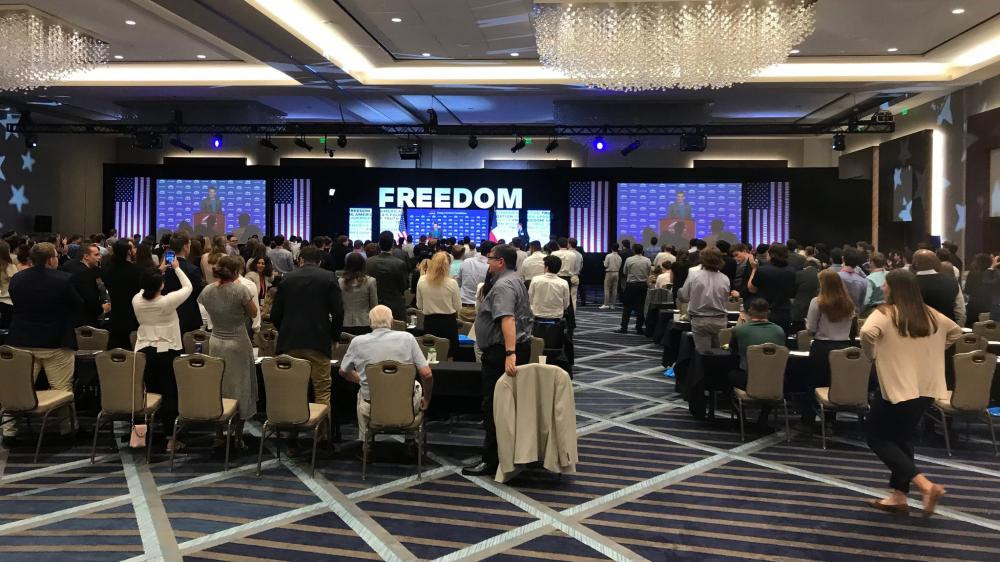 While I was at the conference I also did quick interviews with Representatives Dan Crenshaw and Louie Gohmert about the state of energy in Texas and in America as a whole.
Accelerator Call
This Sunday at 3 pm PT I'll be hosting another "Accelerator call" to discuss strategy, share new insights, and answer questions.

On this one I'll be sharing the final outline for Fossil Future and discussing my 3 favorite new persuasion strategies.

If you're already an Accelerator, you'll get an invitation.

If you're not and want to come on the call, become an Accelerator at any level.

Note: For those who can't attend I'll make a recording of the call available for 2 weeks.
To Life, Liberty, and the Pursuit of Energy,

Alex